| HOME | IN THE NEWS | TRADITIONAL RETAIL MODEL| NEW ONLINE DIRECT SALES MODEL | CONFLICT | ETHICS | SOLUTION | BUY LOCAL | DIRECTORY | JOIN US | DOWNLOAD| LINKS | ABOUT US |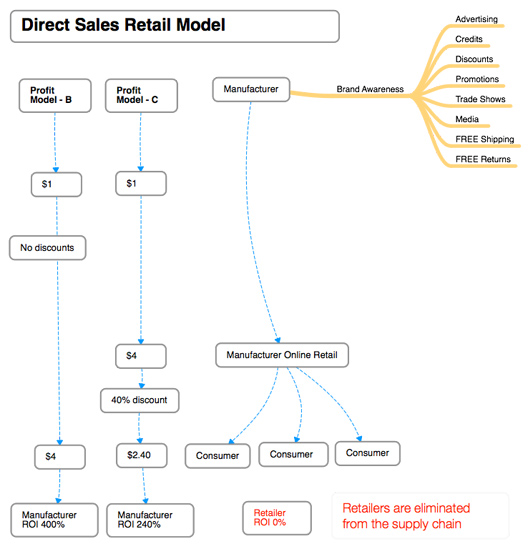 MANUFACTURERS SELLING DIRECT TO CONSUMERS
Manufacturers selling directly to the end consumer and bypassing the retailers in the supply chain describe the New Online Direct Sales Model. This model is increasing in popularity as the Internet is making e-commerce convenient and available through websites, apps, and mobile platforms. Traits of the new online direct sales model include increased manufacturer profit margins, deep consumer purchase incentives, and decreased need for local retail stores.
Manufacturers find that their retail partners are not as essential to endorse or sell their brand. Using brand websites, manufacturers reach consumers directly, without having to funnel through the retail system. When selling directly to consumers, manufacturers maximize ROI (return on investment) for their products; thusly, manufacturers increase their overall gross profit margins (see graph above).
Brands have appealing incentives for consumers to purchase through their websites. Steep discounts, free shipping, and free returns are deals that consumers will have difficulty finding in a retail store, either brick and mortar or online retail. Furthermore, brands are launching mobile platforms for shopping on the go, allowing consumers to purchase virtually anytime, anywhere.
While new channels to reach consumers develop, manufacturers find that retailers are not as crucial to their brands success as they used to be; many brands market, sell, and connect with consumers without the assistance of retail stores. This behavior creates less demand for retailer-manufacturer partnerships as brands pursue engaging consumers directly.
Since manufacturers continue to forge their way in selling directly to consumers, a few brands may grow to become megabrands while others alienate their retail stores. In order to develop into a megabrand, the manufacturer would need to be completely self-sufficient and successful without the help of the retail community. Overtime, these few brands could potentially monopolize the market. The obvious risks involved with monopolizing a market are increased product prices and decreased product variety.
When manufacturers sell directly to consumers, the consumers benefit from the deep discounts and offers made through the brand. In turn, manufacturers circumvent the retailer and gain maximum ROI from the consumers purchase. Brands find that they no longer require a retail network to reach consumers. The escalating technology of the 21st century has the potential to dramatically change the structure of the supply chain. This has current, serious implications for retailers, manufacturers, and consumers.
Visit the Conflict tab to read about the possible effects of the changing market.
by:
Rodrigo Cano, BBA, MBA
Retailers Protected Council
Founder / President
Author / Publisher
rodrigo@retailersprotected.com


Copyright © 2014 Rodrigo Cano. All Rights Reserved.